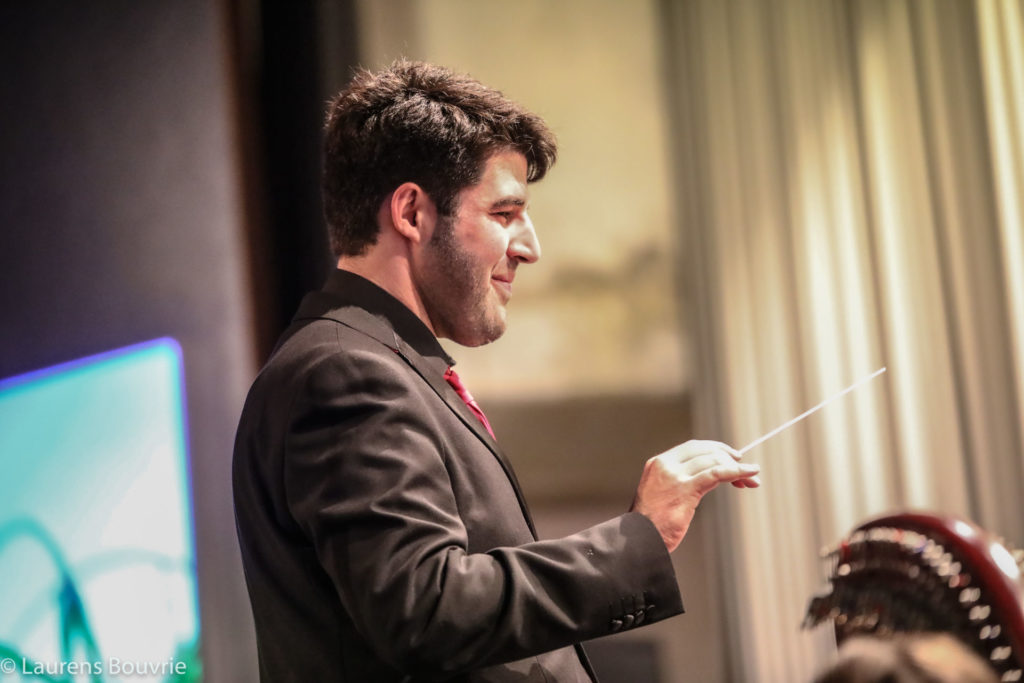 Julio Domingo (Spain, 1990) began playing trombone at age of seven in his local band. As a teenager started writing little pieces of music, for he decided to study Composition with Ferrer Ferran, who also introduced him in the art of Conducting.
He combined these studies with the work as a producer in Nuestras Bandas de Música (web and television program for wind music) and collaborations with wind and symphony orchestras, big bands, jazz combos and chamber music groups.
As a composer has a catalogue of more than 40 scores for different settings and styles: orchestra, band, choir, chamber music, electroacoustic… Some of these have been awarded on international contests, outstanding the 1st Prize in the 4th International Contest "La Prime Lûs", in Italy, for Dríades del bosque.
In 2018 graduates cum laude in Wind Band Conducting at Conservatorium Maastricht, with Jan Cober as a lecturer. There has participated on initiatives like the Jazzical Project, L'Histoire du Soldat and founded the Maastricht Winds orchestra. In 2019 won the 1st Prize and Golden Baton at the International Conductor's Competition in Osnabrück (Germany) during the 6. Deutsches Musikfest.
In January 2020 is guest conductor at MISA Youth Symphony Orchestra (Georgia).
Nowadays studies Orchestral Conducting with Enrico Delamboye and is conductor of the Harmonie Kunst Door Oefening Maastricht (The Netherlands), the Kgl. Musikverein "Zur alten Linde" (Belgium) and assistant-conductor of the Collegium Musicum Aachen (Germany), activities that combines with composing and arranging.
Julio Domingo (Caudete de las Fuentes, 1990) comenzó a tocar el trombón en la banda de su pueblo. A los quince años empezó a escribir pequeñas obras musicales, por lo que decidió estudiar Composición en el Conservatorio Superior "Salvador Seguí" de Castellón de la Plana con Claudia Montero y Ferrer Ferran, quien también le introdujo en el arte de la dirección. 
Compaginó estos estudios con el trabajo de productor en el programa Nuestras Bandas de Música y colaboraciones con bandas y orquestas sinfónicas, big bands, combos de jazz y grupos de cámara. 
Como compositor posee un catálogo de más de 40 obras para diferentes formaciones y estilos: orquesta sinfónica, banda, coro, música de cámara, electroacústica… Algunas de estas obras han sido premiadas en diversos concursos, destacando el Primer Premio en el 4º Concurso Internacional "La Prime Lûs", por Dríades del bosque. 
En 2018 obtiene el diploma cum laude en Dirección de Banda en el Maastricht Conservatorium, bajo la tutela de Jan Cober. En dicho centro ha colaborado en iniciativas como el Jazzical Project, L'Histoire du Soldat y fundado la orquesta de vientos Maastricht Winds. En 2019 gana el 1º Premio y Batuta de Oro en el Concurso Internacional de Dirección de Osnabrück (Alemania), celebrado durante la 6. Deutsches Musikfest. 
En enero de 2020 dirige de invitado la MISA Youth Symphony Orchestra (Georgia).
 Actualmente recibe clases de dirección de orquesta con Enrico Delamboye y es director de la Harmonie Kunst Door Oefening Maastricht (Países Bajos), la Kgl. Musikverein "Zur alten Linde" (Bélgica) y director asistente del Collegium Musicum de Aquisgrán (Alemania), actividades que combina con la de compositor y arreglista.